Notice of Non-Discrimination Poster (Spanish)
District of Columbia Notice of Non-Discrimination Poster (Spanish)
The Notice of Non-Discrimination Poster (Spanish) is a District of Columbia equal opportunity law poster provided for businesses by the District of Columbia Office Of Human Rights. This is an optional notification, so while it is recommended that businesses hang this poster if relevant to their employees, it is not required by the Office Of Human Rights.
This optional Spanish-language poster is a summary of DC's notice of non-discrimination. It lists the categories that DC does not discriminate on. It provides specific information on sexual harassment and contact information for reporting possible violations.
Poster PDF

Spanish Language Poster

Optional Poster

Equal Opportunity Law
AVISO EN CONTRA DE ACTOS DISCRIMINATORIOS
De conformidad con la Ley de Derechos Humanos del Distrito de Columbia (D.C.) de 1977, según enmendada,
Código Oficial del D.C., Sección 21401.01 et seq., (Ley), el Distrito de Columbia no discrimina, de forma visi
ble ni percibida, por los siguientes motivos:
El hostigamiento sexual es una forma de discriminación sexual que está prohibida por la Ley. Además, el
hostigamiento basado en cualquiera de las categorías anteriores, también está prohibido por la Ley. No 
se tolerarán actos discriminatorios que infrinjan la Ley. Los infractores estarán sujetos a medidas 
disciplinarias.  La Ley de Derechos Humanos del Distrito de Columbia (D.C.), Sección 21402.31(a) del 
Código del D.C., prohíbe todo tipo de acto que se realice parcial o totalmente con la finalidad de discriminar:
"Negarle a una persona, de forma directa o indirecta, el derecho a disfrutar a plenitud y equitativamente 
de los bienes, servicios, instalaciones, privilegios, ventajas y adaptaciones de cualquier lugar sujeto aadaptaciones públicas [...]"
Estas prohibiciones también son aplicables a las denegaciones de crédito o seguro.
LAS QUEJAS POR POSIBLES VIOLACIONES EN VIRTUD DE ESTA LEY, PUEDEN DIRIGIRSE A:
Government of the District of Columbia
Office of Human Rights
441 4th Street, N.W., 570N
Washington, D.C. 20001
Teléfono (202) 7274559 • Fax (202) 7279589
www.ohr.dc.gov
Adrian Fenty, Alcalde
Raza 
Color 
Sexo (u hostigamiento sexual 
o de género)
Nacionalidad Religión Edad Estado civil Apariencia personal
Orientación sexual Identidad o expresión de género
Estado familiar 
Responsabilidades familiares MatriculaciónAfiliación políticaInformación genéticaDiscapacidadFuente de ingresoLugar de residencia o negocio	
DISTRITO DE COLUMBIA
ESPACIOS PÚBLICOS
---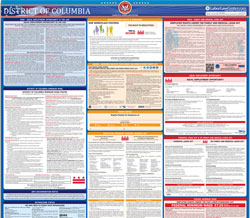 Instead of printing out pages of mandatory District of Columbia and Federal labor law posters, you can purchase a professional, laminated all-in-one labor law poster that guarantees compliance with all District of Columbia and federal posting requirements. Fully updated for April 2017!
Get All-In-One Poster Now
More District of Columbia Labor Law Posters 23 PDFS
Minimum-Wage.org provides an additional 22 required and optional District of Columbia labor law posters that may be relevant to your business. Be sure to also print and post all required state labor law posters, as well as all of the mandatory federal labor law posters.

List of all 23 District of Columbia labor law posters
---
District of Columbia Labor Law Poster Sources:
Labor Poster Disclaimer:
While Minimum-Wage.org does our best to keep our list of District of Columbia labor law posters updated and complete, we provide this free resource as-is and cannot be held liable for errors or omissions. If the poster on this page is out-of-date or not working, please send us a message and we will fix it ASAP.