Parental Leave Act
District of Columbia Parental Leave Act Poster
Mandatory
The Parental Leave Act is a District of Columbia family leave law poster provided for businesses by the District of Columbia Office Of Human Rights. This is a required poster for all District of Columbia employers, and any business that fails to post this notification may be subject to penalties or fines.
This mandatory poster is a summary of parental leave laws in DC. It includes a quick summary of the legal act that allows parents or guardians to take leave for school-related activities. Information for employers are also included. The definition of parent or guardian in DC is included as well.
Parental Leave Act 	
 - Know Your Rights in the District of Columbia -	
Work Leave for Parenting Purposes
The District of Columbia Parental Leave Act allows employees who are parents or guardians to take 24 hours of leave 
(paid or unpaid) during a 12 month period to attend school-related activities. School events include but are not limited 
to: parent-teacher conferences, concerts, plays, rehearsals, sporting events, and other activities where the child is a 
participant or the subject of the event, not a spectator. 
 
The employee must notify the employer 10 days before the requested leave unless the school-related activity was not 
reasonably foreseeable. The leave can be unpaid or paid family, vacation, personal, compensatory or leave bank leave. 
The employer may deny the leave if granting the leave would disrupt the employer's business and make the achievement 
of production or service unusually difficult. 
Definition of Parent or Guardian	
ohr.dc.gov      phone: (202) 727-4559     fax: (202) 727-9589      441 4th Street NW, Suite  570N,  Washington,  DC  20010       	
Filing a Complaint of a Violation	
If you believe an employer has wrongfully denied you parental leave under this statute, 
you can file a complaint within one year of the incident with the Office of Human Rights 
(OHR). To file a complaint, visit: 
Questions about the OHR process can also be answered by phone at (202) 727-4559.	
• Online at ohr.dc.gov; or
• In-Person at 441 4th Street NW, Suite 570N, Washington, DC 20001.
An employee is considered a parent or guardian for purposes of this Act if he or she is: 
• biological mother or father of a child; 
• person who has legal custody of a child; 
• person who acts as a guardian of a child;
• aunt, uncle, or grandparent of a child; or is
• a person married or in a domestic partnership to a person listed above.	
 
Employer Posting Requirements 
The employer must post and maintain this notice in a conspicuous place. An employer that willfully fails to post this 
notice may be ordered to pay a fine of up to $100 for each day the employer fails to post the notice.
---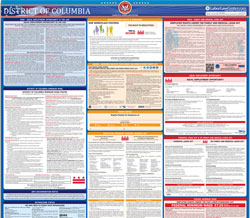 Instead of printing out pages of mandatory District of Columbia and Federal labor law posters, you can purchase a professional, laminated all-in-one labor law poster that guarantees compliance with all District of Columbia and federal posting requirements. Fully updated for May 2017!
Get All-In-One Poster Now
More District of Columbia Labor Law Posters 23 PDFS
Minimum-Wage.org provides an additional 22 required and optional District of Columbia labor law posters that may be relevant to your business. Be sure to also print and post all required state labor law posters, as well as all of the mandatory federal labor law posters.

List of all 23 District of Columbia labor law posters
---
District of Columbia Labor Law Poster Sources:
Labor Poster Disclaimer:
While Minimum-Wage.org does our best to keep our list of District of Columbia labor law posters updated and complete, we provide this free resource as-is and cannot be held liable for errors or omissions. If the poster on this page is out-of-date or not working, please send us a message and we will fix it ASAP.