Unemployment Insurance Benefits (Spanish)
Kentucky Unemployment Insurance Benefits (Spanish) Poster
Mandatory
The Unemployment Insurance Benefits (Spanish) is a Kentucky unemployment law poster provided for businesses by the Kentucky Labor Cabinet. This is a required poster for all Kentucky employers, and any business that fails to post this notification may be subject to penalties or fines.
This mandatory Spanish language notice is a quick reminder to employees and employers that unemployment insurance may be available. Eligibility requirements and instructions are included in the poster.
Poster PDF

Spanish Language Poster

Required for All

Unemployment Law
INFORMACIÓN 	ALREDEDOR 	VENTAJAS 
DEL SUBSIDIO DE 	
PARO	 	
 	
SU PATRÓN ESTÁ CONFORME A KENTUCKY 
LEY DEL SUBSIDIO DE PARO. 
USTED PUEDE SER ELEGIBLE PARA LOS SUBSIDIOS DE DESEMPLEO SI USTED 
PIERDA SU TRABAJO, SE DESPIDEN O SE REDUCEN SUS HORAS  . 
CALIFICAR PARA LAS VENTAJAS, USTED DEBE 
 	
• Esté parado a través de ninguna avería sus el propios; 
• Esté capaz y disponible para trabajar y haciendo un esfuerzo razonable de obtener el nuevo 
trabajo; y 
• Coloqúese para el trabajo cuando usted archiva su demanda. 
Usted debe también resolver los requisitos monetarios de l a elegibilidad basados en sus 
ganancias en la "perí odo bajo," l os primeros cuatro de los cinco cuartos termi nados del 
calendario que preceden su demanda.  Estas ganancias también determinan la cantidad de 
ventajas  que usted pued e  ser dado de recho  a di bujar.   Generalmente,  si  usted ha trabaj ado 
para  más qu e  un año y  por  lo  menos $150 0  ganados  durante  su perí odo  bajo,  usted pued e 
resolver los requisitos monetarios para una demanda. 
 
SI USTED PIERDE SU TRABAJO O SE DESPIDE: 
1. Archive su demanda  dentro de la primera semana despu és de qu e usted haga  parado, 
archivando en el  Internet en www.oet.ky.gov,  o por  el  teléfono  en 502-875-0442 
Lunes hasta el viernes 7: 30am-5: 30pm ET (esto es no un número gratis). 
2. Después  de que archi ve  su demanda, demandas  de conti nuación del archivo dos veces  por 
semana mientras que uste d está para do, con el  Web site o por el  teléfono gratis en  
     877-369-5984 or 877-3MY-KYUI. 
 
SI SE REDUCEN SUS HORAS O USTED 
TIENE RESTRICCIONES MÉDICAS: 
 
Usted puede ser el egible para las ventajas parciales si a su patrón regul ar le todavía emplea 
pero está trabajando menos que sus horas a tiempo completo normales debido a la carencia 
del trabajo disponible. Las ventajas no son paga das en el caso de  la reducción en las horas 
debido a la inhabilidad total, a las vacaciones o a las razones personales. 
 
RECIPIENTES DE LA REMUNERACIÓN DE LOS TRABAJADORES' 
 
Si usted faltó por l o menos si ete semanas de gan ancias debido a l esión en cual quier cuarto 
durante su perí odo bajo, y era el egible para remuneración de los trabajador es ' (si  o no usted 
la dibujó), usted puede poder utilizar los salarios ganados antes su l esión a calificar para los 
subsidios de desempleo.  Para calificar, usted debe archivar su demanda en el plazo de las 
primeras cuatro semanas que usted es parados 
después  del  período  cubierto  por remuneraci ón  de Workers'.   Entre en contac to  con su ofici na 
más cercana del subsidio de paro para más información. 
 
LAS CONTRIBUCIONES AL FONDO DEL SUBSIDIO DE DESEMPLEO SON PAGADO POR 
EMPLOYERS. NINGUNAS DEDUCCIONES ¡SE HACEN DE LOS SALARIOS DEL 
EMPLEADO PARA ESE PROPÓSITO! 	
- NO COMETA FRAUDE- 
Si usted da falso testimonio al aplicar para los beneficios para el desempleo, usted puede ser 
descalificado hasta por 52 semanas. Usted tambien puede enfrentar otras penalidades como 
cargos de felonía, multas y posiblemente hasta encarcelamiento. Además, todos los beneficios 
recibidos fraudulentamente deberán ser pagados de vuelta a la División del Subsidio de paro. 
Habrá un interes cargado y puede haber un gravamen impuesto en su contra y una cantidad a 
pagar para retirarlo.  
-  	
  	
 
POS-UI-5.1 
(Inversor de corriente. 12.12) 
 
 
 
 Desarrollo de Educación y de la Fuerza de Trabajo del Gabinete 
          Departamento de Inversión de Mano de Obra 
                        Oficina de Empleo y Formación 
                      División de Seguro de Desempleo 
                        275 Avenida Central del Este 
                               Frankfort, KY 40621 
---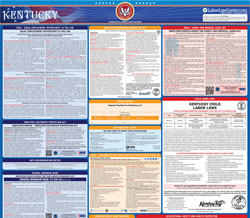 Instead of printing out pages of mandatory Kentucky and Federal labor law posters, you can purchase a professional, laminated all-in-one labor law poster that guarantees compliance with all Kentucky and federal posting requirements. Fully updated for November 2017!
Get All-In-One Poster Now
More Kentucky Labor Law Posters 16 PDFS
Minimum-Wage.org provides an additional fifteen required and optional Kentucky labor law posters that may be relevant to your business. Be sure to also print and post all required state labor law posters, as well as all of the mandatory federal labor law posters.

List of all 16 Kentucky labor law posters
---
Kentucky Labor Law Poster Sources:
Labor Poster Disclaimer:
While Minimum-Wage.org does our best to keep our list of Kentucky labor law posters updated and complete, we provide this free resource as-is and cannot be held liable for errors or omissions. If the poster on this page is out-of-date or not working, please send us a message and we will fix it ASAP.