Retail Food Facility Labeling Requirements
Pennsylvania Retail Food Facility Labeling Requirements Poster
The Retail Food Facility Labeling Requirements is a Pennsylvania miscellaneous law poster provided for businesses by the Pennsylvania Department Of Labor & Industry. This is an optional notification, so while it is recommended that businesses hang this poster if relevant to their employees, it is not required by the Department Of Labor & Industry.
PA DEPARTMENT OF AGRICULTURE	 	
BUREAU OF FOOD SAFETY & LABORATORY SERVICES	 	
 
 	LABELING REQUIREMENTS OF FOOD PRODUCTS AT RETAIL FOOD FACILITIES	 	
DEFINITION:	 	
PACKAGED MEANS:	 	
BOTTLED, CANNED, CARTONED, BAGGED, OR WRAPPED, WHETHER PACKAGED IN A FOOD 	PROCESSING FACILITY OR A RETAIL FOOD FACILITY (RFF).	 	
PACHAGED DOES NOT INCLUDE:	 	
WRAPPED OR PLACED IN A CARRY	-OUT CONTAINER TO PROTECT THE FOOD DURING SERVICE /DELIVERY TO A CONSUMER, BY A FOOD EMPLOYEE, UPON A CONSUMER REQUEST.	 	
 	
ANY	 	
PACKAGE	D 	
FOOD	 	
FULL LABELING REQUIREMENTS:	 	
1. 	COMMON NAME	. 	
2. 	INGREDIENTS/SUB	-INGREDIENTS	. (DESCENDING ORDER BY WEIGHT)	 	
3. 	MAJOR FOOD ALLERGENS OR REQUIRED WARNINGS	. 	
4. 	NET QUANTITY / WEIGHT	. 	
5. 	MANUFACTURER /"DISTRIBUTED BY" STATEMENT	. 	
6. 	NUTRITION LABELING 	– IF NOT EXEMPT	. 	
7. 	EXEMPTIONS EXIST FOR SMALL PACKAGES WITH LESS THAN 12	sq.in. OF THE TOTAL SURFACE A	REA 	
AVAILABLE FOR LABELING	. (e.g. 	CHEWING GUM)	 	
8. 	BULK PACKAGED FOOD PRODUCTS NOT INTENDED FOR DIRECT CONSUMER SALE MAY HAVE LABELING 
ON MASTER CONTAINERS OR ON OTHER DOCUMENTATION SUCH AS INVOICES.	 	
ALL APPLICABLE 	 	
CFRs 	 	
REQUIREMENTS	 	
FULL 	LABELING	 	
(SEE EXCEPTIONS)	 	
PDA EXCEPTION	 	
PACKAGED PRODUCT WILL NOT NEED FULLY 	LABELED IF ALL THE FOLLOWING APPLY:	 	
1. 	ITEM IS MADE OR ASSEMBLED IN THE RETAIL FOOD FACILITY	.  	
2. 	THE ITEM IS SINGLE SERVING AND PACKAGED	. 	
3. 	ITEM IS MARKED WITH THE DATE OF PREPARATION.	 	
4. 	ITEM IS SOLD WITHIN 24 HOURS OR DISCARDED.	 	
5. 	SERVICE CASE HAS A PALACARD, POSTER	, CARD, BOOK OR SIMILAR, DISPLAYED WITH OR NEAR THE 	
FOOD ITEM, AND WHICH INCLUDES THE COMMON NAME, ALL INGREDIENTS AND SUB	-INGREDIENTS, 	
AND MAJOR ALLERGENS.	 	
6. 	THE PACKAGING IN GENERAL CONTAINS A LABEL WITH THE COMMON NAME, GENERAL (COMMON) 
INGREDIENTS, NAME 	AND ADDRESS OF MANUFACTURER, NET QUANTITY, AND MAJOR ALLERGENS.	 	
FOOD PACKAGED AT 
MANUFACTURING 	
PLANT	 	
BAKED GOODS MADE OR PREPARED	 ON THE PREMISES OF 	THE RFF 	AND 	NO HEALTH CLAIMS ARE MADE.	 	
INGREDIENTS MUST BE AVAILABLE UPON REQUEST.	 Examples:  Sign stating "Ingredients available upon Request" 	
with location, predominately posted at POS.  QSR terminal or barcode scanner with information at POS.	 	
 
 	
EXEMPTION	 	
FOOD 	
PACKAGED OR 
RE-PACKAGED   
AT THE RFF	 	
 	
04.2016
---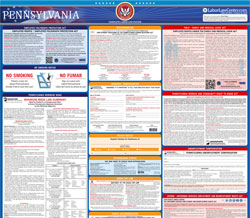 Instead of printing out pages of mandatory Pennsylvania and Federal labor law posters, you can purchase a professional, laminated all-in-one labor law poster that guarantees compliance with all Pennsylvania and federal posting requirements. Fully updated for October 2017!
Get All-In-One Poster Now
More Pennsylvania Labor Law Posters 18 PDFS
Minimum-Wage.org provides an additional seventeen required and optional Pennsylvania labor law posters that may be relevant to your business. Be sure to also print and post all required state labor law posters, as well as all of the mandatory federal labor law posters.

List of all 18 Pennsylvania labor law posters
---
Pennsylvania Labor Law Poster Sources:
Original poster PDF URL: https://www.agriculture.pa.gov/consumer_protection/FoodSafety/Retail%20Food/Retail%20Foods%20Facilities%20and%20Restaurants/Documents/Label%20Req%

[email protected]

%20Retail_%20Packaged-%20Flow%20Chart.pdf , last updated May 2020
Pennsylvania Labor Law Poster Page at http://www.dli.pa.gov/Pages/Mandatory-Postings.aspx
Pennsylvania Department Of Labor & Industry at http://www.dli.pa.gov/
Labor Poster Disclaimer:
While Minimum-Wage.org does our best to keep our list of Pennsylvania labor law posters updated and complete, we provide this free resource as-is and cannot be held liable for errors or omissions. If the poster on this page is out-of-date or not working, please send us a message and we will fix it ASAP.