Form UC-700 (ESP) Compensacion Por Desempleo
Pennsylvania Form UC-700 (ESP) Compensacion Por Desempleo Poster
Mandatory
The Form UC-700 (ESP) Compensacion Por Desempleo is a Pennsylvania unemployment law poster provided for businesses by the Pennsylvania Department Of Labor & Industry. This is a required poster for all Pennsylvania employers, and any business that fails to post this notification may be subject to penalties or fines.
This is a state labor law enforced by the state, Pennsylvania Department of Labor and Industry. It's a mandatory posting affecting all workers and employers in Pennsylvania. The poster provides protection for workers who happen to lose their jobs or are unable to work full time yet qualify for benefits as provided for under the law. The labor law poster describes how to qualify for such unemployment benefits. It indicates where to file claim for the benefits. The poster must be correctly posted in a conspicuous place where everyone, all employees can access it. Failure to comply with the posting as stated under the law can and may attract fines and or sanctions.
Poster PDF

Spanish Language Poster

Required for All

Unemployment Law
RECUERDE:	 cuando sea que tenga preguntas o algún problema relacionados con su solicitud del UC, contacte 	
con su Centro de Servicio del UC. No siga los consejos de otros. Dichos consejos pueden estar errados y 
pudieran negativamente afectar su derecho a recibir los beneficios del UC.	
COMPENSACIÓN POR	 	
DESEMPLEO DE PENNSYLVANIA	
UC-700(ESP) REV 09-16	
Ofrecemos asistencia y servicios adicionales a las personas con discapac\
idades que los soliciten.	Empleador/programa que apoya la igualdad de oportunidad	
Bajo las estipulaciones de la Ley de Compensación por Desempleo (UC)\
 de Pennsylvania, estamos inscrito con el
Departamento de Labor e Industria de esta forma:
NOMBRE
DIRECCIÓN
NÚMERO DE CUENTA DEL EMPLEADOR
La Ley de UC podría proveerle de un ingreso durante períodos en que se encuentre parcial o totalmente desocupado 
sin que sea culpa.
Si se encuentra DESEMPLEADO o sus HORAS SON REDUCIDAS debido a LA FALTA DE TRABAJO, la compañía, 
departamento, agencia, comisión o buró donde trabajaba pudiera entregarle un completado formulario 	Form 	
UC-1609, titulado Cómo solicitar los beneficios de compensación por desempleo (UC).	
IMPORTANTE	
A su solicitud de UC le será dada una fecha efectiva equivalente a la semana en que usted actualmente presentó su 
solicitud de beneficios. Usted deberá presentar una nueva solicitud o reabrir un reclamo ya existente en la primera 
semana en que se encuentre desocupado o en que sus horas hayan sido reducidas. Usted corre el riesgo de perder 
ciertos derechos a los beneficios si presenta su solicitud después de la primera semana de su desocupación.
AVISO:	 para presentar una solicitud de beneficios del UC, usted deberá proveer su:	
 	•  Número del seguro social	
 •  Número de registro como extranjero (si no es ciudadano de los EE. UU.)
 •  Dirección postal y de domicilio completas
 •  Nombre, dirección y # de cuenta del empleador(es) del 	Form UC-1609	
 •  Fechas de empleo y las razones por las que se fue
 •  Su más reciente recibo de pago (opcional, pero beneficioso)
 •  Número de PIN, –número de identificación personal– (si tiene uno de un reclamo anterior)
Usted puede presentar una nueva solicitud de beneficios, reabrir un reclamo de UC ya existente u obtener información 
en línea sobre el programa de UC en 	www.uc.pa.gov	 o puede llamar al Centro de Servicio del UC al 888-313-7284.  	
TTY (para impedimento auditivo) al 888-334-4046.
Al solicitar los beneficios del UC, usted deberá reportar los 	ingresos brutos que ganó	 durante toda semana por la 	
que esté solicitando beneficios del UC. Comparaciones computarizadas son usadas para detectar el recibo ilegal 
de pagos de UC ya sea por trabajo o ingresos no declarados, así como también pensiones no reportadas.
Una persona que a sabiendas da una declaración falsa o a sabiendas oculta información para obtener beneficios 
del UC está cometiendo un crimen bajo la sección 801 de la Ley del\
 UC, 43 P.S. §871, y podría estar sujeta a 
multa, prisión, reembolso y pérdida de futuros beneficios.	
DEPARTMENT OF LABOR & INDUSTRYOFFICE OF UNEMPLOYMENT COMPENSATION BENEFITS POLICY
---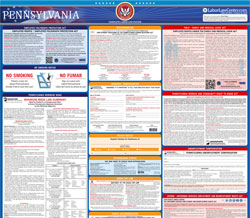 Instead of printing out pages of mandatory Pennsylvania and Federal labor law posters, you can purchase a professional, laminated all-in-one labor law poster that guarantees compliance with all Pennsylvania and federal posting requirements. Fully updated for December 2017!
Get All-In-One Poster Now
More Pennsylvania Labor Law Posters 18 PDFS
Minimum-Wage.org provides an additional seventeen required and optional Pennsylvania labor law posters that may be relevant to your business. Be sure to also print and post all required state labor law posters, as well as all of the mandatory federal labor law posters.

List of all 18 Pennsylvania labor law posters
---
Pennsylvania Labor Law Poster Sources:
Labor Poster Disclaimer:
While Minimum-Wage.org does our best to keep our list of Pennsylvania labor law posters updated and complete, we provide this free resource as-is and cannot be held liable for errors or omissions. If the poster on this page is out-of-date or not working, please send us a message and we will fix it ASAP.