Form No. LIBC-500 (Rev 5-09) Workers' Compensation Insurance Posting
Pennsylvania Form No. LIBC-500 (Rev 5-09) Workers' Compensation Insurance Posting Poster
Mandatory
The Form No. LIBC-500 (Rev 5-09) Workers' Compensation Insurance Posting is a Pennsylvania workers compensation law poster provided for businesses by the Pennsylvania Department Of Labor & Industry. This is a required poster for all Pennsylvania employers, and any business that fails to post this notification may be subject to penalties or fines.
This is a state labor law enforced by state, Pennsylvania Department of Labor and Industry. It is a mandatory posting affecting all workers and employers within the state. The poster provides information what workers and employers should do in the event of an injury on the job or when one develops an occupational disease out of and in the course of the job. The poster highlights workers' rights as well as the employers' responsibilities in the event of injury. It describes how to file a claim as a result of an injury and benefits for the injured worker based on the type of injury among other relevant concerns under workers compensation laws. The poster should be correctly posted in a conspicuous place where all employees can see it. Failure to comply with the posting as stated under the law may attract fines and or sanctions.
Poster PDF

Required for All

Workers Compensation Law
LIBC-500 REV 04-18	
REMEMBER: IT IS IMPORTANT 	
TO TELL YOUR EMPLOYER 	 	
ABOUT YOUR INJURY	
Auxiliary aids and services are available upon request to individuals wi\
th disabilities.	Equal Opportunity Employer/Program	
Any individual filing misleading or incomplete information knowingly and with the intent to defraud is in violation of Section 1102 of the Pennsylvania Workers' Compensation Act, 	 	77 P.S. §1039.2, and may also be subject to criminal and civil penalties under 18 Pa. C.S.A. §4117 (relating to insurance fraud).	
*500*	
 Employer Information Claims Information Services  Hearing Impaired Email 	Services	 toll-free inside PA: 800.482.2383  PA Relay 7-1-1 [email protected]	 717.772.3702  local & outside PA: 717.772.4447 
The name, address and telephone number of your employer's workers' compensation insurance company, third-party administrator (TPA), or person handling workers' compensation claims for your company, are shown below.
Employer Name:  Date Posted:
IF INSURED: IF SOMEONE OTHER THAN INSURER IS	 	(Complete all applicable spaces)	 HANDLING CLAIMS:	  (Complete all applicable spaces)
Name of Insurance Company: Name of TPA (Claims administrator):
Address: Address:
Telephone Number: Telephone Number:
Insurer Code:
IF SELF-INSURED  IF SOMEONE OTHER THAN SELF-INSURER IS 	 	
(Complete all applicable spaces)	 HANDLING CLAIMS:	
  (Complete all applicable spaces)
Name of person handling claims at Name of TPA (Claims administrator):
the self-insured:
Address: Address:
Telephone Number: Telephone Number:
Insurer Code:	
DEPARTMENT OF LABOR & INDUSTRYBUREAU OF WORKERS' COMPENSATION
---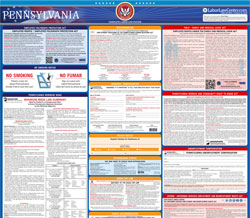 Instead of printing out pages of mandatory Pennsylvania and Federal labor law posters, you can purchase a professional, laminated all-in-one labor law poster that guarantees compliance with all Pennsylvania and federal posting requirements. Fully updated for December 2017!
Get All-In-One Poster Now
More Pennsylvania Labor Law Posters 18 PDFS
Minimum-Wage.org provides an additional seventeen required and optional Pennsylvania labor law posters that may be relevant to your business. Be sure to also print and post all required state labor law posters, as well as all of the mandatory federal labor law posters.

List of all 18 Pennsylvania labor law posters
---
Pennsylvania Labor Law Poster Sources:
Labor Poster Disclaimer:
While Minimum-Wage.org does our best to keep our list of Pennsylvania labor law posters updated and complete, we provide this free resource as-is and cannot be held liable for errors or omissions. If the poster on this page is out-of-date or not working, please send us a message and we will fix it ASAP.