Form No. LLC-8 (ESP) (6-08) Resumen de la Ley de Igualdad Salarial
Pennsylvania Form No. LLC-8 (ESP) (6-08) Resumen de la Ley de Igualdad Salarial Poster
Mandatory
The Form No. LLC-8 (ESP) (6-08) Resumen de la Ley de Igualdad Salarial is a Pennsylvania equal opportunity law poster provided for businesses by the Pennsylvania Department Of Labor & Industry. This is a required poster for all Pennsylvania employers, and any business that fails to post this notification may be subject to penalties or fines.
This is a state labor poster enforced by the state department of labor and industry, bureau of labor law compliance. It is a mandatory posting required of all employers operating within the state. In the poster are provisions for and against discrimination on payment of wages on the basis of sex. The poster provides for collection of unpaid wages in the event of a discriminatory claim. It also enlists records required of the employers. These include records of wages and wage rates as well as job classifications among other terms and conditions of employment. The poster also contains possible penalties that could be meted against employers upon infraction. It should be displayed at a conspicuous place at the workplace where everyone frequent and the employees can access.
Poster PDF

Spanish Language Poster

Required for All

Equal Opportunity Law
RESUMEN DE LA LEY DE	
IGUALDAD SALARIAL	
Se prohíbe la discriminación basada en 
el sexo:
Prohíbe la discriminación por parte de todo 
empleador entre sus empleados, en todo 
lugar de trabajo, sobre la base del sexo, 	 	
mediante el pago de salarios en un 	 	
porcentaje menor al pagado a los empleados 
del sexo opuesto para trabajos en 	iguales	 	
condiciones y que requieren 	iguales	  	
habilidades. Establece que la variación en 	 	
el pago de los salarios no está prohibida 	 	
cuando se basa en un sistema de aumentos 
por mérito, capacitación o antigüedad que 
no discrimina sobre la base del sexo.
Administración:
Faculta a la Secretaría de Trabajo e Industria	 	
a administrar las cláusulas de la ley y a 
emitir leyes y reglamentaciones que harán 
efectivas las cláusulas de la ley. 
Cobro de salarios impagos en 	 	
caso de discriminación:
Establece el cobro de salarios adeudados 	 	
impagos en el marco de la ley y, además, 	 	
un monto igual por perjuicios liquidados y  
costos y honorarios razonables del abogado. 
Autoriza a la Secretaría de Trabajo e 	 	
Industria, y a pedido del empleado, a 	 	
hacerse cargo del cobro del reclamo 	 	
Deberá ser colocado en un lugar claramente visible en cada comercio d\
e Pensilvania, 	
que se rija por la Ley de Igualdad Salarial	
LLC-8(ESP) 6-08	
Ofrecemos asistencia y servicios adicionales a las personas discapacitad\
es que así lo soliciten.	
Empleador/Programa de Igualdad de Oportunidad	
Encuentre más información en línea	
Podrá  obtener  información  adicional  sobre  la  Ley  de  Igualdad  Salarial  disponible  en  línea  en: 	 	
www.dli.state.pa.us	, haga clic en "Labor Law Compliance" (Cumplimiento de la Ley de Trabajo)	 	
en Quick Links (enlaces directos).	
salarial. Para este reclamo establece un 
límite de 	dos	 años a partir de la fecha en 	
que se produjo la violación de la ley.
Registros requeridos:
Obliga al empleador a mantener los registros 
de salarios, tarifas salariales, clasificaciones 
de puestos y otros términos y condiciones 
laborales de las personas empleadas. Obliga 
a los empleadores a publicar un resumen de 
la ley.
SANCIONES:
Se aplicará una multa no menor que $50 y 
no mayor que $200, o arresto no menor que 	 	
30 días y no mayor que 60 días, en los 
siguientes casos:
(1) el empleador que intencional y 	 	
deliberadamente viola las cláusulas de la 
ley, o despide, o por el contrario discrimina 
a un empleado que presenta un reclamo, 	 	
entabla, o atestigua en procedimientos 	 	
legales en el marco de esta ley; y 
(2) el empleador que no cumple con la 	 	
conservación de los registros, adultera esos 
registros, entorpece, demora o de algún 
otro modo interfiere con la Secretaría o su 	 	
representante autorizado, en el desarrollo 
de sus obligaciones de hacer cumplir la ley. 
Cada día que continúa una violación 	 	
constituye una infracción aparte.
---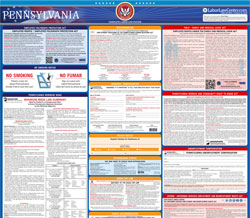 Instead of printing out pages of mandatory Pennsylvania and Federal labor law posters, you can purchase a professional, laminated all-in-one labor law poster that guarantees compliance with all Pennsylvania and federal posting requirements. Fully updated for October 2017!
Get All-In-One Poster Now
More Pennsylvania Labor Law Posters 18 PDFS
Minimum-Wage.org provides an additional seventeen required and optional Pennsylvania labor law posters that may be relevant to your business. Be sure to also print and post all required state labor law posters, as well as all of the mandatory federal labor law posters.

List of all 18 Pennsylvania labor law posters
---
Pennsylvania Labor Law Poster Sources:
Labor Poster Disclaimer:
While Minimum-Wage.org does our best to keep our list of Pennsylvania labor law posters updated and complete, we provide this free resource as-is and cannot be held liable for errors or omissions. If the poster on this page is out-of-date or not working, please send us a message and we will fix it ASAP.