Hand Antiseptics
Wisconsin Hand Antiseptics Poster
The Hand Antiseptics is a Wisconsin food service poster provided for businesses by the Wisconsin Department Of Workforce Development. This is an optional notification, so while it is recommended that businesses hang this poster if relevant to their employees, it is not required by the Department Of Workforce Development.
dfs	_fs_073	_13Antiseptics.docx	 	 2016	 	
Hand Antiseptics
 
Hand antiseptics are not substitutes for 
handwashing	. Hand antiseptics should be used 	
only 	after	 proper hand washing has been 	
completed.  Handwashing with soap and water is 
the single most effective way to prevent the 
spread of bacteria and viruses	-the maj	or causes 	
of foodborne illness. 
Hand antiseptics are 
effective in killing 
bacteria and some 
viruses on 	clean	 hands.  	
If hand antiseptics are 
used incorrectly they can 
become another source 
of food contamination.	 	
 
Hand antiseptics are 
not intended to replac	e 	
soap in the 
handwashing station.	  	
They are not effective in 
removing dirt or other 
organic materials.  	The 	
hands of food workers are often wet; often 
contaminated with fatty material or with food 
high in proteins. The presence of water, food, 
fatty 	materials, feces and blood on the hands can 	
significantly reduce the effectiveness of hand 
antiseptics.	 	
 	
 
Hand antiseptics are considered to be a food 
additive.  	The hand antiseptic or its ingredie	nts 	
need to be approved by FDA.  H	owever, if a 	
hand antise	ptic that does not meet FDA criteria 	
is used, it should be used a	fter proper 	
handwashing.  It should also be:	 	
1. 	Followed by a 	
thorough han	d rinsing 	
in clean water prior to 
hand contact with food 
or by the use of 
gloves; or	 	
 
2. 	Limited to 	
situations that involve	 no 	
direct contact with food 
by bare hands.
---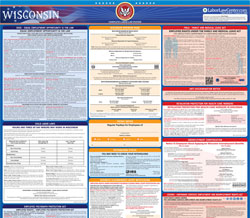 Instead of printing out pages of mandatory Wisconsin and Federal labor law posters, you can purchase a professional, laminated all-in-one labor law poster that guarantees compliance with all Wisconsin and federal posting requirements. Fully updated for June 2017!
Get All-In-One Poster Now
More Wisconsin Labor Law Posters 20 PDFS
Minimum-Wage.org provides an additional nineteen required and optional Wisconsin labor law posters that may be relevant to your business. Be sure to also print and post all required state labor law posters, as well as all of the mandatory federal labor law posters.

List of all 20 Wisconsin labor law posters
---
Wisconsin Labor Law Poster Sources:
Labor Poster Disclaimer:
While Minimum-Wage.org does our best to keep our list of Wisconsin labor law posters updated and complete, we provide this free resource as-is and cannot be held liable for errors or omissions. If the poster on this page is out-of-date or not working, please send us a message and we will fix it ASAP.