Hours and Days of Work Minors May Work in Wisconsin (Spanish)
Hours and Days of Work Minors May Work in Wisconsin (Spanish) Poster
The Hours and Days of Work Minors May Work in Wisconsin (Spanish) is a Wisconsin child labor law poster provided for businesses by the Wisconsin Department Of Workforce Development. This notification is required for some employers, such as employers of minors.
This poster discusses, in Spanish, the rules and regulations regarding employment of minors in the State of Wisconsin; specifically, it delineates the hours and times of day during which they may work.

The poster goes on to state that minors, regardless of work, may not work during school hours. This restriction stands the only one applied to minors aged 16 or 17. For those aged 14 or 15, there are more restrictions on when they can work and the types of industry in which they can work.

The poster further notes that the minimum wage for minors is $7.25 per hour, save during the first 90 days of employment, wherein employers can pay an ?opportunity wage? of $5.90 per hour.

The poster closes by encouraging anyone in need of further information about Wisconsin's child labor laws to contact the Equal Rights Division of the Wisconsin Department of Workforce Development.

Poster PDF

Spanish Language Poster

Required for Some

Child Labor Law
ERD-9212- P (R.  06/2017)  	
Horas  y  Horarios  del Día Que  Menores  	
Pueden Trabajar  en Wisconsin  	
 	
Las leyes estatales y federales no limitan las horas  en las que menores de 16 años o más pueden trabajar, a 
excepci ón de que no pueden trabajar o no se les debe permitir trabajar durante las horas en las que deben 
asistir a la escuela bajo el Estatuto de W isconsin  § 118.15.   
 
Las leyes estatales y federales tambien  permiten que los menores de menos de  16 años trabajen hasta siete 
d ías por semana en el reparto de peri ódicos y en la agricultur a. En la mayoría de  otros tipos de trabajos,  los 
menores de menos de 16 a ños solo pueden trabajar seis dí as por semana.  
 
La mayoría de los empleadores deben obtener permisos  de trabajo para menores de 16 a ños  antes  de  permitir 
que trabajen. Para m ás infor mación, vea la Guia de Empleo de Menores de Wisconsin. (ERD -4758- P). 	
 	
Horas M áximas de Trabajo par a 
menores de 14 & 15 a ños  Despues del D
ía del 
Trabajo hasta el 31  de mayo  Desde el 1
° de  junio 
hast a el D ía del 
Trabajo  	
Horas Diarias   	   	
Días sin Clases  
8 horas   8 horas 
Días de Clase  
3 horas  3 horas 	
Horas Semanales  	   	
Semanas sin Clases 
40 horas  40 horas 
Semanas de Clase  
18 horas  18 horas 	
Horas Permitidas del D ía  
7am-7pm   7am-9pm  	
 
Empleadores  sujetos tanto a las leyes federales como a las estat ales deben cumplir con la sección más 
exigente de las dos leyes.  
 
Las leyes estatales de trabajo de menores prohiben que los menores trabajen durante las horas en las que 
deben asistir a la escuela, a excepci ón de estudiantes que participen en programas de experienci a laboral y 
orientaci ón vocacional organizados por su escuela.  
 
Menores de menos de 16 años estan  limitados a las restricciones de horas máximas y de horas permitidas del 
día aún cuando pueden trabajar para más de un empleador durante el mismo día o  la mis ma semana.  
 
Menores de menos de 18 añ os no pueden trabajar más de 6 horas consecutivas sin tener un periodo de 
comida  sin deberes de 30 minutos.  
 
Menores de 16 y 17 años de edad que trabajan despues de las 11:00pm deben  de tener 8 horas de descanso 
entre e l fin de un turno y el comiezo del próximo turno.  
 
El Salario Minimo  para menores es $7.25 por hora. Empleadores pueden pagar un "Salario de Oportunidad" de 
$5.90 por hora durante los primeros 90 dí as de empleo. En el día 91, el salario debe subir a $7.25  por hora. 
 
Para más informaci ón sobre las leyes federales de trabajo de menores, llame al (608) 441- 5221, o escriba a 
U.S. Department of Labor, Wage & Hour, 740 Regent Street, Suite 102, Madison, WI  53715.  
 
Para más informaci ón sobre las leyes estatales de trabajo de menores, llame a la  Equal Rights Division en 
Madison  al (608) 266- 6860 o en Milwaukee  al (414) 227 -4384.  
 	
DEPARTMENT OF WORKFORCE DEVELOPMENT -  EQUAL RIGHTS DIVISION  	
PO BOX 8928 MADISON WI  53708   	
Telephone:   (608) 266-6860   TTY:   (608) 264- 8752 	 	Website: http://dwd.wisconsin.gov/er/  	 	
El Departamento de Desarrollo Laboral provee oportunidades iguales en sus servicios. Si usted necesita 
asistencia para tener acceso a los servicios, o necesita materiales en otro formato, por favor póngase en 
contacto con nosotros. Las personas sordas o con impedimentos auditivos o del habla pueden llamarnos 
usando los números de TTY provistos.
---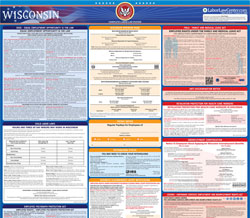 Instead of printing out pages of mandatory Wisconsin and Federal labor law posters, you can purchase a professional, laminated all-in-one labor law poster that guarantees compliance with all Wisconsin and federal posting requirements. Fully updated for June 2017!
Get All-In-One Poster Now
More Wisconsin Labor Law Posters 20 PDFS
Minimum-Wage.org provides an additional nineteen required and optional Wisconsin labor law posters that may be relevant to your business. Be sure to also print and post all required state labor law posters, as well as all of the mandatory federal labor law posters.

List of all 20 Wisconsin labor law posters
---
Wisconsin Labor Law Poster Sources:
Labor Poster Disclaimer:
While Minimum-Wage.org does our best to keep our list of Wisconsin labor law posters updated and complete, we provide this free resource as-is and cannot be held liable for errors or omissions. If the poster on this page is out-of-date or not working, please send us a message and we will fix it ASAP.