North Carolina Handwashing Poster (Spanish)
North Carolina Handwashing Poster (Spanish)
The North Carolina Handwashing Poster (Spanish) is a North Carolina general labor law poster poster provided for businesses by the North Carolina Department Of Labor. This notification is required for some employers, such as food establishments.
Poster PDF

Spanish Language Poster

Required for Some

General Labor Law Poster
Lavado de Manos	
1.Abra la llave.
•Asegúrese de que haya toallas de
papel limpias.
•Abra la llave de agua caliente.
(90 a 110 ºF en NC)	
2.Mójese las manos.
•Mójese las manos con agua.	
3.Aplíquese jabón.
•Aplíquese jabón líquido 
en las manos.	
4.Lávese las manos.
•Lávese bien las manos durante 10
a 15 segundos. Frote la parte de
arriba y la parte de adentro de las
manos, debajo de las uñas y entre
los dedos.	
Enseñe a los niños a
lavarse las manos:
•Al llegar al centro
• Antes y después 
de comer
•Después de ir al
baño o de que se
les cambian los
pañales
•Después de toser o
tocar líquidos corpo-
rales, excreciones
nasales, sangre 
o vómito
•Antes y después 
de usar las mesas
de agua
•Después de jugar
afuera
•Después de tocar
animales
domésticos
•Cuando sea que las
manos se vean
claramente sucias
•Antes de irse a casa	
5.Enjuáguese las manos.
•Enjuáguese las manos bajo el
agua por lo menos 10 segundos.	
6.Séquese las manos.
•Séquese las manos con una toalla
de papel limpia.	
7.Cierre la llave de agua.
•Cierre la llave de agua usando la
toalla de papel.	
8. Bote la toalla 
de papel.
•Bote la toalla de papel en un
basurero con bolsa.	
hóla!	
adios..	
El Centro de Recursos de Salud y Seguridad Infantiles •1.800.367.2229 •www.healthychildcarenc.org•El desarrollo, la traducción y el envío del cartel sobre Lavado de Manos es financiado por un subsidio en bloque de la Fundación para el Desarrollo Infantil 
de la Oficina de Cuidado Infantil y la Administración para Niños y Familias del Departamento de Salud y Servicios Humanos de los EE. UU.; a través de la División de Carolina del Norte de Desarrollo Infantil, el  Departamento de Salud y Servicios Humanos 
de Carolina del Norte, y el Departamento de Salud Materna e Infantil de la Escuela de Salud Pública en la Universidad de Carolina del Norte en Chapel Hill.
---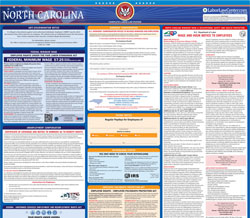 Instead of printing out pages of mandatory North Carolina and Federal labor law posters, you can purchase a professional, laminated all-in-one labor law poster that guarantees compliance with all North Carolina and federal posting requirements. Fully updated for August 2017!
Get All-In-One Poster Now
More North Carolina Labor Law Posters 7 PDFS
Minimum-Wage.org provides an additional six required and optional North Carolina labor law posters that may be relevant to your business. Be sure to also print and post all required state labor law posters, as well as all of the mandatory federal labor law posters.

List of all 7 North Carolina labor law posters
---
North Carolina Labor Law Poster Sources:
Labor Poster Disclaimer:
While Minimum-Wage.org does our best to keep our list of North Carolina labor law posters updated and complete, we provide this free resource as-is and cannot be held liable for errors or omissions. If the poster on this page is out-of-date or not working, please send us a message and we will fix it ASAP.