Unemployment Insurance Poster (Spanish)
North Carolina Unemployment Insurance Poster (Spanish)
Mandatory
The Unemployment Insurance Poster (Spanish) is a North Carolina unemployment law poster provided for businesses by the North Carolina Department Of Labor. This is a required poster for all North Carolina employers, and any business that fails to post this notification may be subject to penalties or fines.
This Unemployment Insurance Poster is a labor law poster enforced by the state, North Carolina Department of Commerce. It's a mandatory posting affecting all workers and employers in North Carolina. The poster provides protection for workers who lose their jobs or are unable to work full time yet qualify as provided for under the law. The labor law poster describes how to qualify for unemployment insurance benefits. It indicates where to file claim for the benefits. The poster must be appropriately posted in a conspicuous place where everyone, all employees can access it. Failure to comply with the posting as stated under the law can/may attract fines and or sanctions.
Poster PDF

Spanish Language Poster

Required for All

Unemployment Law
Aviso a los Trabajadores acerca de los Derechos de Beneficiosy Certificado de Cobertura  Los empleadores 
asegurados por la Ley de Seguridad de Empleo de Carolina del Norte (Capítulo 96 de los Estatutos Generales 
de 	
Carolina 	del Norte) contribuyen a un fondo especial reservado para el pago de subsidios de desempleo. Ningún dinero de los 
cheques de los trabajadores se retiene con el propósito de cubrir el seguro de desempleo.
Si sus horas de trabajo se reducen sustancialmente o su empleo es eliminado debido a la escasez de trabajo, usted podría calificar 
pa	

ra beneficios de seguro de desempleo.  Si usted trabajó menos del equivalente de tres (3) días usualmente programados durante 
cu	

alquier semana de pago, porque el trabajo no estaba disponible, usted puede tener derecho a los beneficios del seguro de des -
emp	

leo. En caso de desempleo parcial, el empleador puede presentar una reclama para sus empleados mediante el uso de automa -
tizació	

n.  El empleador puede presentar una reclama adscrita para un empleado solamente una vez durante el año de beneficios 
est	

ablecido, y el período de desempleo parcial presentado en la reclama no podrá exceder seis semanas consecutivas. Asegύrese de 
no	

ti	
ficar al empleador de cualquier salario ganado por otras fuentes de ingreso durante la semana de nómina de pago. Los pagos 
de ben	
eficios del seguro de desempleo se procesan en Raleigh, Carolina del Norte.  Por favo r, asegúrese de que su empleador tenga 
su dirección postal correcta.
 	
Si usted pierde su empleo con este empleado r, 	puede comunicarse con el Departamento de Comercio, División de Soluciones de 
Fuerza Laboral (DWS) en  www	
.nccommerce.com/workforce para que lo asistan a obtener un trabajo adecuado. La DWS ofrece 
una  amplia 	
variedad  de  servicios  gratuitos.  Si  trabajo  adecuado  no  está  inmediatamente  disponible,  puede  aplicar  para 
beneficios de desempleo con la División de Seguridad de Empleo en el sitio  des.nc.gov, o por teléfono al 877-841-9617.
Por le y	
, los trabajadores que quedan sin empleo por otras razones, o que rechazan trabajo adecuado, pueden ser rechazados para 
ben	
e	
ficios de seguro de desempleo.
Si 	
tiene algunas 	preguntas acerca de los beneficios de seguro de desempleo, o necesita más información, póngase en contacto con 
l	
a División de Seguridad de Empleo en la dirección indicada al fondo de este cartel.
Durante D isputas laborales [Sección 96-14.7 (b)]
Un in	

dividuo es descalificado para recibir beneficios si la División determina  que el desempleo total o parcial del individuo se debe 
a 	
una disputa laboral en su lugar de trabajo o cualquier lugar propiedad del mismo empleador en el estado de Carolina del Norte. 
Un	
a 	
vez que se ha finalizado el conflicto laboral, estos trabajadores continuaran siendo inelegibles para beneficios del seguro de 
desempleo por el período de tiempo que sea razonablemente necesario para reanudar las operaciones en el lugar de trabajo de los 
ob	

reros.	
Instrucciones para los empleadores 1.
Coloque este aviso en su establecimiento en un lugar donde todos los emp\
leados lo puedan ver.
Copias adicionales pueden ser obtenidas en el Internet  des.nc.gov.
2. Usted tiene que notificar a los trabajadores afectados por un período \
de vacaciones, en un plazo
razonable de tiempo antes de que las vacaciones comiencen.
3. Las reclamaciones de beneficios para los trabajadores adscritos pueden s\
er sometidas a través
del Internet en  des.nc.gov	

.Para obtener más información, comuníquese con: 
North Carolina Department of Commerce 
Unemployment Insurance Division
P.O. Box 25903
Raleigh, North Carolina 27611   
Teléfono: (919) 707-1290 
 des.nc.gov  	
DES recomienda publicar esta información. Revisada Diciembre 16, 2016
---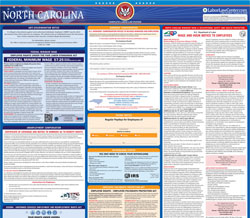 Instead of printing out pages of mandatory North Carolina and Federal labor law posters, you can purchase a professional, laminated all-in-one labor law poster that guarantees compliance with all North Carolina and federal posting requirements. Fully updated for August 2017!
Get All-In-One Poster Now
More North Carolina Labor Law Posters 7 PDFS
Minimum-Wage.org provides an additional six required and optional North Carolina labor law posters that may be relevant to your business. Be sure to also print and post all required state labor law posters, as well as all of the mandatory federal labor law posters.

List of all 7 North Carolina labor law posters
---
North Carolina Labor Law Poster Sources:
Labor Poster Disclaimer:
While Minimum-Wage.org does our best to keep our list of North Carolina labor law posters updated and complete, we provide this free resource as-is and cannot be held liable for errors or omissions. If the poster on this page is out-of-date or not working, please send us a message and we will fix it ASAP.