N.C. Workers' Compensation Notice (Spanish)
North Carolina N.C. Workers' Compensation Notice (Spanish)
Mandatory
The N.C. Workers' Compensation Notice (Spanish) is a North Carolina workers compensation law poster provided for businesses by the North Carolina Department Of Labor. This is a required poster for all North Carolina employers, and any business that fails to post this notification may be subject to penalties or fines.
This is a state labor law enforced by state, North Carolina Workers' Industrial Commission. It is a mandatory posting affecting all workers and employers within the state. The poster provides information what workers and employers should do in the event of an injury on the job or when one develops an occupational disease out of and in the course of the job. The poster highlights workers' rights as well as the employers' responsibilities in the event of injury among other relevant concerns under workers compensation laws. The poster should be correctly posted in a conspicuous place where all employees can see it. Failure to comply with the posting as stated under the law may attract fines and or sanctions.
Poster PDF

Spanish Language Poster

Required for All

Workers Compensation Law
FORMA 	17	 	Revisada 	11/201	7 	
VISO DE COMPENSACIÓN LABORAL A EMPLEADORES Y EMPLEADOS LESIONADOS	 	
Todo empleado de este negocio que sufre lesiones relacionadas al trabajo puede tener derecho a beneficios de compensación 	 	
laboral por parte del empleador o el portador de seguro del empleador, excepto oficiales ejecutivos expresamente excluídos.	 	
I USTED TI	ENE UNA LESIÓN RELACIONADA CON EL TRABAJO O UNA ENFERMEDAD OCUPACIONAL	 	
El Empleado deberá	: 	
• 	Reportar inmediatamente su lesión o enfermedad ocupacional a su empleador	. 	
• 	Notificar por escrito al empleador dentro de treinta (30) días que ocurre la lesión o enfermedad ocupacional	. 	
• 	Hacer inmediatamente un reclamo a la Comisión Industrial usando la Forma 18, no más tarde de (2) años de o	currir o desarrollar	  	
su lesión o enfermedad ocupacional.	. 	
• 	Si el tratamiento médico o el pago de compensación no es prontamente suministrado, llame a la compañía de seguros/administrado	r  	
o requiera una audiencia ante la Comisión Industrial usando la Forma 33	 Petición que la Demanda sea Asignada a una Audiencia	.  	
• 	Las formas de la Comisión están disponibles en la página web 	www.ic.nc.gov	 o llamando a la Línea de Ayuda	. 	
•  La compañía de seguros de compensación para trabajadores de su empleador es    
•  El número de la póliza de seguro es   
•  La póliza de seguro de compensación para trabajadores de su empleador es válida desde  	
Para asistencia: Llame a la Comisión Industrial LÍNEA DE AYUDA	—	(800) 688	-8349.	 	
El Empleador deberá	: 	
• 	Proveer todos los servicios médicos necesa	rios al empleado	. 	
• 	Reportar la lesión a la compañía de seguros/administrador y a la Comisión Industrial usando la Forma 19 Reporte de Accidente	 dentro de 	
cinco (5) días, si su empleado falta más de un (1) día de trabajo o si los gastos de tratamientos médicos	 exceden los $2,000.00	. 	
• 	Proveer a su empleado una copia de la Forma 19 y una copia en blanco de la Forma 18 Aviso de Accidente	. 	
• 	Pagar puntualmente compensación al empleado de acuerdo con el Acta de Compensación Laboral	. 	
Para asistencia con entrenamiento de seguridad: 	 	
Director de Entrenamiento de Seguridad	—	(919) 807	-2602 y	 [email protected]	. 	
 	
NORTH CAROLINA INDUSTRIAL COMMISSION	 	
12	40 MAIL SERVICE CENTER	 	
RALEIGH, NORTH CAROLINA 27699	-12	40	 	
Página Oficia	l en Español: 	www.ic.nc.gov	 	
 	
MPLEADOR: ESTA FORMA DEBE ESTAR VISIBLEMENTE PUBLICADA SI USTED TIENE SEGURO DE COMPENSACIÓN LABORAL O SI USTED CALIFICA PARA	 ESTAR AUTOASEGURADO. (N.C. 	Gen. Stat. § 97	-93)	.
---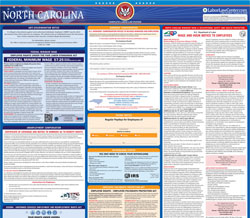 Instead of printing out pages of mandatory North Carolina and Federal labor law posters, you can purchase a professional, laminated all-in-one labor law poster that guarantees compliance with all North Carolina and federal posting requirements. Fully updated for August 2017!
Get All-In-One Poster Now
More North Carolina Labor Law Posters 7 PDFS
Minimum-Wage.org provides an additional six required and optional North Carolina labor law posters that may be relevant to your business. Be sure to also print and post all required state labor law posters, as well as all of the mandatory federal labor law posters.

List of all 7 North Carolina labor law posters
---
North Carolina Labor Law Poster Sources:
Labor Poster Disclaimer:
While Minimum-Wage.org does our best to keep our list of North Carolina labor law posters updated and complete, we provide this free resource as-is and cannot be held liable for errors or omissions. If the poster on this page is out-of-date or not working, please send us a message and we will fix it ASAP.